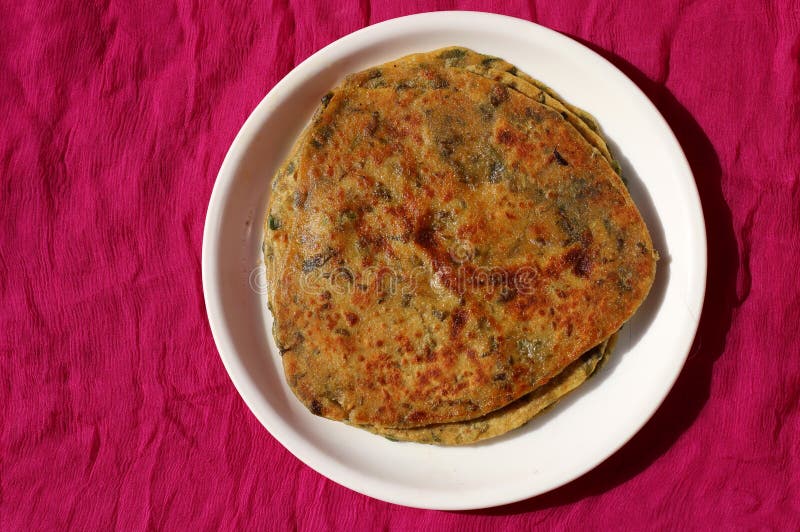 ‏Wheat Flour
2 Cups (measuring cup 250 ml)
‏Wheat Flour
2 Cups (measuring cup 250 ml)
Methi(Fenugreek) Leaves
2 Cups (measuring cup 250 ml)
Methi Paratha Recipe:
Pluck 2 cup Methi leaves, wash it properly in water 2-3 times.
Chopp the leaves and take it in a large bowel to make a dough for parathas.
Add 2 cups wheat flour to it.
Add salt as per your taste.
Add 2 chopped green chillies. You can add extra chillies if you want it more spicy.
Mix it properly and add water as required to make a soft dough like roti.
Divide the dough into 2 round shapes like balls to make 2 thick big parathas. You can divide it to 4 parts if you want thin parathas.
Take half cup wheat flour in a plate for dusting
Now take one portion of round shape dough and place it on rolling pan, dust it with wheat flour, press gently and roll it to round shape parathas.
Heat a pan and after 2 mins once the pan is heated place paratha on it.
Check if the paratha is slightly cooked from one side and if colour changes slightly. Its time to Flip the paratha. Turn it on other side and let it cook.
After 1 min apply ghee or oil on the paratha and flip it again.
Now apply ghee or oil on other side of Methi paratha. Let it cook properly from both the sides till it becomes crispy and slight brown spots appear on it.
Remove it from the tava or pan and place it in serving dish. Your crispy Methi Parathas are ready.